6 Month AI Training in Chandigarh
What does AI Training in Chandigarh does?
Teaching AI is an Art and we are renowned for Best AI training in Chandigarh .
This AI training in Chandigarh at Corporate School, will give you deep practical training of AI. This will be achieved through learning of PYTHON + ML + AI.
What does this AI Training Include ?
Data Analytics with Python
Machine Learning
Advance Machine Learning
Deep Learning using NLP
Computer Vision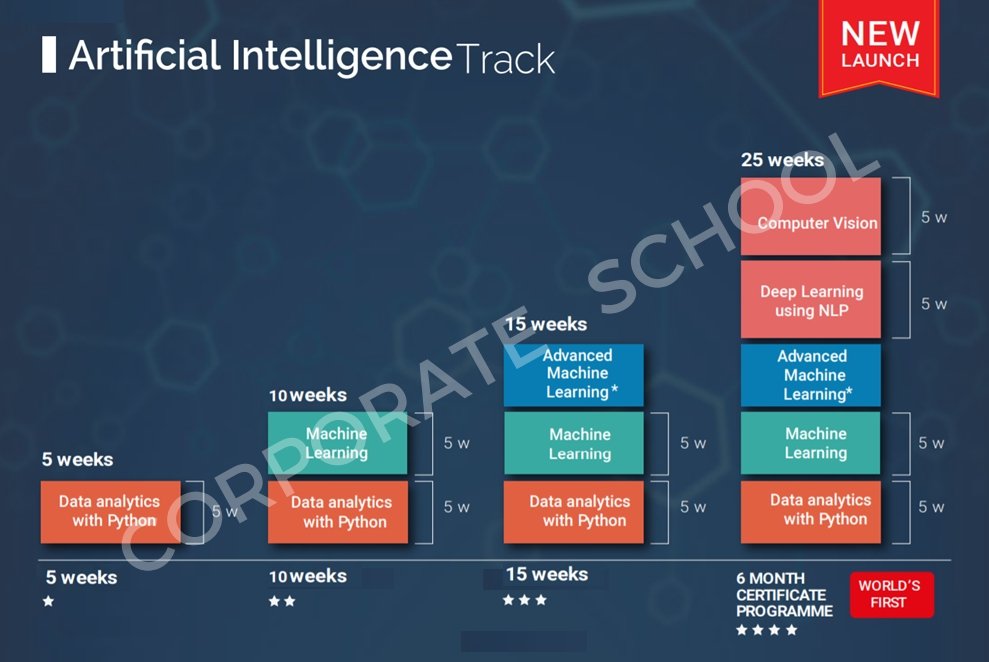 Corporate School provides you best 6 month Artificial Intelligence or AI training in Chandigarh .Corporate School focuses on clarifying all the key concepts of AI with the deep learning methodology.
We challenge to provide best-in-class industry training to our students + 100% Job Placements Instantly in Artificial training programs in Chandigarh with the career advantage in AI coaching in Chandigarh. Call @9915032272 for guidance.
Program Highlights
Why Choose 6 Month AI Training in chandigarh at Corporate School ?

Apply data analysis techniques to solve real-world problems & on-demand build machine learning models to solve industry grade data problems
Application Based Learning
Theory –> Hands-On –> Case Study –> Project
–>Job –> Target Achieved
Dedicated Student Support Team
Helps beyond the classroom hours.
Choose projects from Ecommerce, BFSI, Telecom, Retail & instantly become a domain specialist in the application of data science & machine learning.
Designed by experts and Knowledge repositories
Always Buzzing with students interacting with each other.
Take this comprehensive programme in AI which covers various concepts like Python, Advanced Machine Learning and Computer Vision
So, Learn world's high-level human intelligence processes by machines, especially computer systems, from AI Working professionals , 10+ yrs experienced Chandigarh's#1 IT professional.
Career Centre of AI Training in Chandigarh
This course is designed for both absolute beginners or people with some programming experience looking to learn Artificial Intelligence which is one of the highest in-demand skill by employers in IT industry with 100% Job Placements across the globe.
The key point which makes this course unique is that it is covering all the topics yet easy to learn. This course provides sufficient details to you to design and develop your own AI solution.
Visit our institute today for FREE DEMO CLASS !!
AI Training Course Eligibility
BCA / B.S.C (Computer Science) / B.Tech (Computer Science) / B.E (Computer Science)
Postgraduates: M.Tech / MCA / M.S.C (Computer Science)
AI Training Course Schedule
2 Hrs Theory (Monday To Tuesday), 2 Hrs Lab (Wednesday To Friday)
Duration: Till satisfaction
AI Training Course Duration
6 Months
AI Training Course Certification
Python + Machine Learning + AI + Live Project + Certification
If you are thinking to develop your career for Artificial Intelligence training in Chandigarh and Mohali.We offer the best training of Artificial Intelligence training in Chandigarh.
Corporate School will equip you with the proper Python ,ML and AI programming skills and a great portfolio which you can show to your employer or to anyone who you want to impress. This is a great opportunity to become a professional AI programmer so join the other thousands of students who have successfully applied their skills in the real world.
Requirements for AI Learning
Basic working knowledge of Python programming is expected
Basic understanding of machine learning and minimal experience in developing AI projects.
Who this course is for:
Python developers who would like to work on neural networks and artificial intelligence and gain knowledge of how to survive in the world of big data.
Python developers who want to take their first steps in the world of artificial intelligent solutions using easy-to-follow projects.
Artificial Intelligence Course Benefits
Our Artificial Intelligence AI Courses are designed for students and professionals where they can learn about self-driving cars, face recognition, web search, industrial robots and tumor detection.
We help people to solve and understand real-life problems using the varied applications of Artificial Intelligence.
Interview Preparation and Personality Development will be part of AI training Course at Corporate School